It started here: 20 Things the Rich Do Every Day, an article posted to Dave Ramsey's website.  There was a big bru-ha-ha surrounding the article, enough so Dave amended a response.  Somewhere in there, Rachel Held Evans' responded on CNN's belief blog.  Then I happened upon a few twitter critiques comparing him to Joel Olsteen.  I was NOT having it. Um, no.  I unleashed in defense.  The next morning, I quickly kicked out a lengthier response & after calming down wrote  & in addition to my former InterVarsity former colleauge, Joshua Settle's insightful response.
Since I Twitter-mentioned @DaveRamsey about 55.2 times, he & his staff noticed.  The next morning, I was shocked, elated to see this: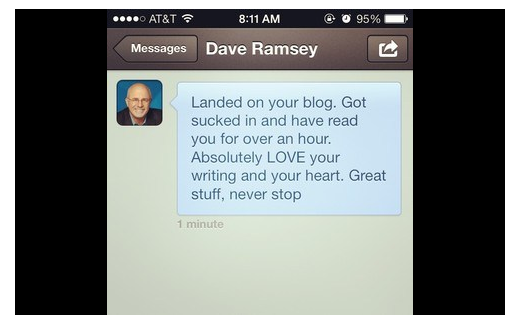 And then he says if I'm ever in Nashville he'd love to meet me.  (What the frack?! I can't make this 'ish up, folks)! Well.  I've been supporting local playright/screenwriter/Director (who happens to be one of my besties) on her independent film, A Chance of Rain.   (More on this very cool development later).  Cindy & I were traveling to Nashville on ACOR movie business & after securing cheap flights decided to see if it would work to take Dave Ramsey up on his offer to meet me. And it did.
It worked out easiest for us to come in on one morning to explore Financial Peace Plaza where folks come in to yell, "WE'RE DEBT FREE!" & sign the debt-free wall, and to meet Dave R. the next morning.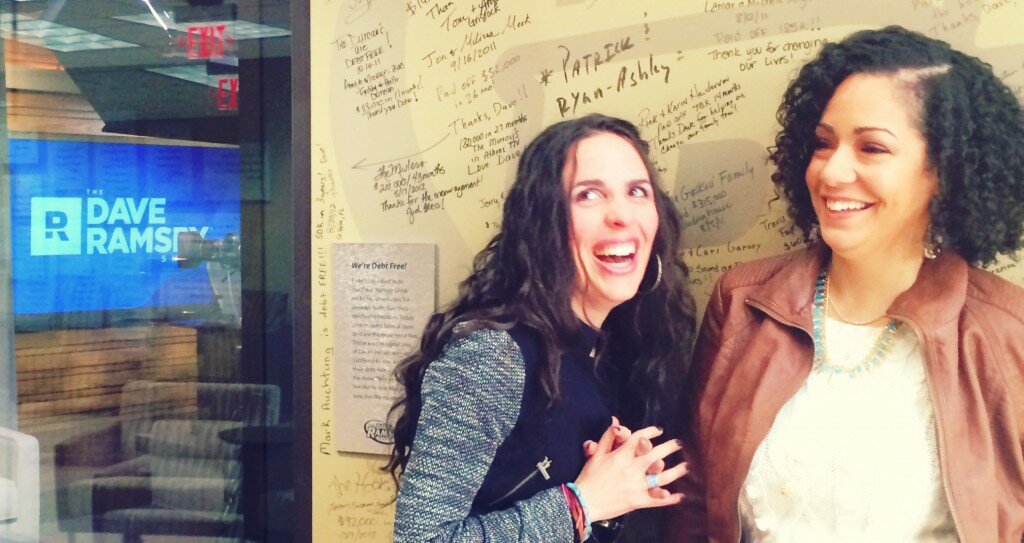 For me, this meeting was an honor.  The hubz & I did the Financial Peace University course back in '09.  Also, Dave Ramsey's live podcast regularly plays on our kitchen radio.  His $$ teachings have helped me in particular so much, but I'm also a HUGE fan of his Entreleadership podcast which I listen to fairly regularly.
Whereas my hubz comes from a long line of healthy finance management I do not.  My Dad was a huge shopper, my Ma was a huge shopper & -shock of all shocks- I'm a huge shopper.  In the early 60′s, my Dad was pretty wealthy at one point running numbers and then lost all of it on bad bets & lavish living.  Dave Ramsey's teaching have given me a helpful starting point to even engage with money.  Also? I LOVE his straight-forward snark though I admit it's not everyone's cup of tea.
"We are going to ask Dave Ramsey!" has been the siren call of both the hubz & I every.single.time we've had a financial disagreement (which is often) for the past 5 years.
Now, on the eve of sitting with Dave Ramsey I couldn't think of one responsible question to ask him.
Before bed I told Cindy, "never mind, I'm not doing this, I'm not meeting with him, just forget it, I'm going to let him down & I can't even put together a reasonable question about money."
To which she had both crickets & "Well then screw talking about money! What?!? What?! No, just no. We're going."
I was nervous, y'all. I even had a hard time sleeping. I woke up, sweaty-palmed & carrying on with jitters and such.
Lord Jesus, I pray, what-in-the-actual-frack is going on with me?
And I remember: I. Don't. Deserve. Opportunities. Like. This.
So.  Cindy & I are sitting in the beautiful conference room connected to his super beautiful office and the song going through my head is:
Started from the bottom now we here, started from the bottom now my whole team f*ckin' here.  Started from the bottom now here, started from the bottom no my whole team here, nigga!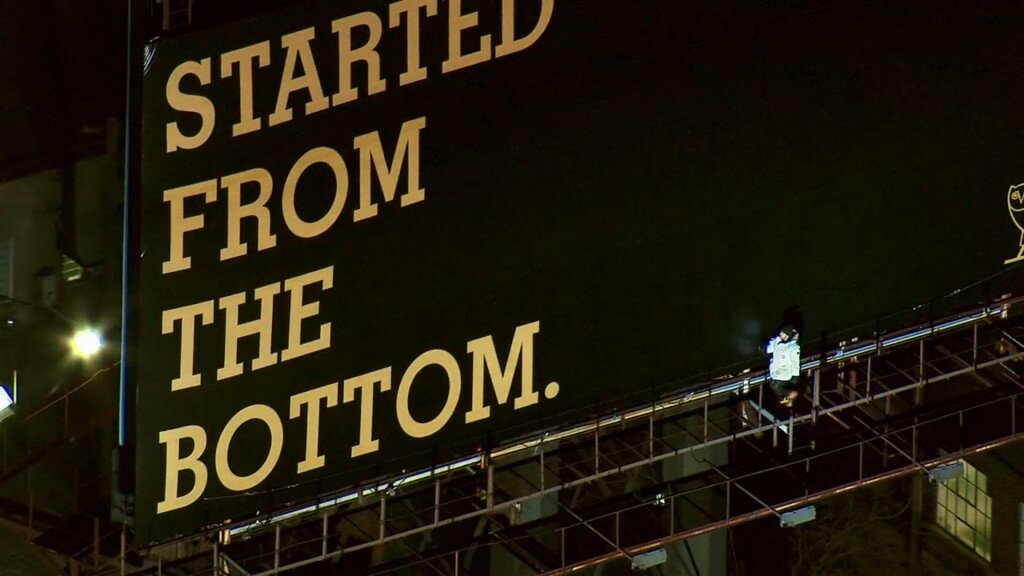 I had conversations with myself as a kid, how I was just just a stupid little ni**er. I never in a trillion years believed I'd amount to anything.  I was never told I was going to aspire to anything, or to even try.  No one ever looked me in my eyes and said, "Gracie Green, the world is yours for the taking."
When I graduated high school, I hadn't applied to a single college.  My Ma applied me to a local community college one month before the semester started.  I went because I was bored.  I wasn't going to amount to anything.  I wasn't supposed to.  I was supposed to find a man to give some babies, and hope it worked out somehow.
About 6.5 years into my  bachelors degree I realized "if I keep going, dang, I might actually graduate!" I'm 14 years post my bachelor's degree now & lots of folks including myself forget that I, in fact, started from the bottom.  If Drake himself felt the need to remind folks of his humble beginnings well then so do I.  (<– Makes sense to me).
That's why I'm always happily surprised when someone on the level of Dave Ramsey says, "you wrote something good.  You made me think about something in a way no one else has. I want to sit down with you."
I am always surprised.  ALWAYS surprised.  This is not fake humility humble-bragging. I really was poor and racism really did (and still does) threaten to make me believe that I am still a good-for-nothing black chick from Detroit.
Even when I started my Masters program & won a prestigious full scholarship that only 80 out of 80,000 women were awarded, I still felt stupid.  I spent half a year in counseling trying to convince my counselor why I really was "too stupid" to be in the program and how I did not deserve the opportunity.
And by the time I decided I was not stupid and smart enough to be in a Master's program, I was 32 yrs. old.  That's a long time, y'all.
When someone extends the hand of fellowship to me -in particular a powerful white man- HELLZ YEAH, it means something to me.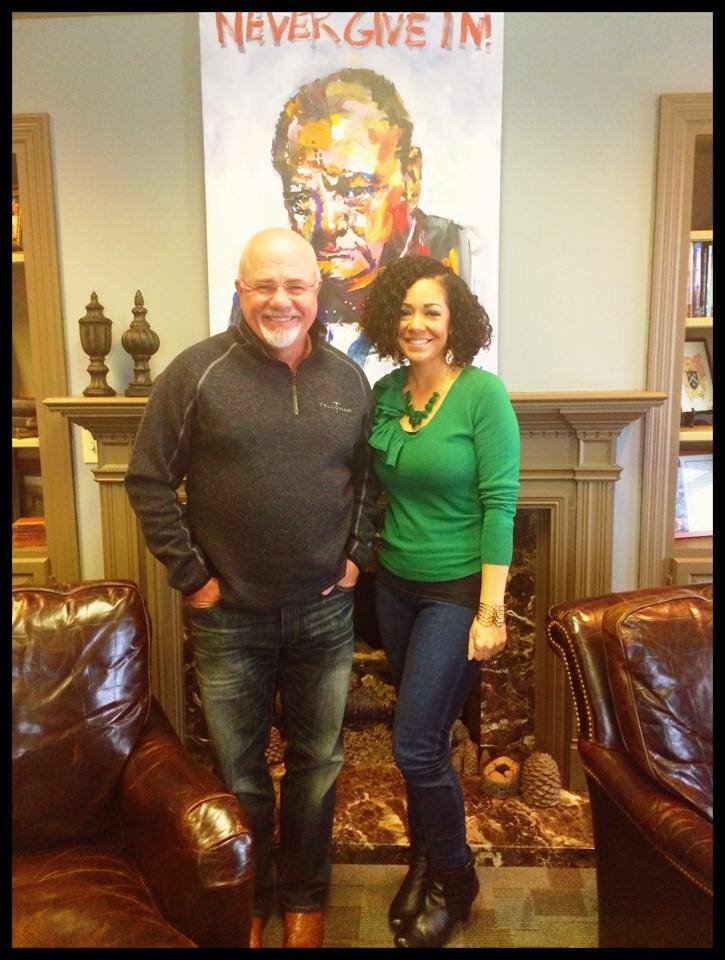 So.  I sat there & I saw myself sitting with Dave-freaking-Ramsey and I take a deep breath because, y'all, I started from the bottom.  And it's not that 'I've arrived,' at all, but that I'm willing to acknowledge and keep moving on my dreams in part because I'm 'leaning in' to the idea that I, (little Gracie Green) deserve a place at the table with the big dawgs.
He asks why I think people read me.  He says, it doesn't matter what I'm writing about.  The two words that kept coming up for him are: raw & authentic.  Just keep doing that, he says.  He tells me to, "keep going, keep writing because at one point you will touch on something really big, really important…and it's going to make a huge difference." 
In my head: yes sir!
He asks why I started writing & what he can do for me.  To which I replied that I felt a bit like Eddie Murphy in Coming to America & that I was just, "VERY HAPPY TO BE HERE!"
We talked a bit about the aforementioned article debacle.  Both Cindy & I grill him with back-to-back questions: "how do you feel about being attacked? Does it still hurt your feelings? How do you decide what to address and what not to?"
He says he's been given a field to plow.  If he tries to plow other fields then he begins to ignore the field God has called him to.  That is what keeps him focused,  keeps him going.  Everyone can ask, "what about this and what about that, what about these people and those people?" yet he knows he's been given a particular group of people to focus on.
In other words: one will never make everyone happy.
I have no problem with that.  I spent the first 13 years of my career focused specifically on black college students. Black + college students were the ONLY 2 criteria for my ENTIRE LIFE CALLING.  And yes, many times per year someone would call me out, call me racist and ask 'what about the white college students,' and I'd have to say -over and over again- I, Grace Biskie, am called BY GOD to equip black college students.  And when I did my job well, they themselves were ready to embrace their own God-given calling which often include many different people groups, stations & locations.
It made A LOT of sense to me.
I ask him what he & his team plan to address the black Church which he acknowledges & understands significantly struggles to trust him.  He has some plans, some ideas.  I 'lean in' and tell him I'd be happy to help him figure that out. =)  I throw in that I'm an engaging speaker for good measure.  Both Brene' Brown & Sheryl Sandberg would have been super proud of me.
But honestly, why did I have such a hard time writing this post?
I have never taken 5+ days, 10+ hours on a single medium-length post.
In part, because I kept trying to cull out the holy moments, instead of just acknowledging every day, all of it, are the holy moments.
In part, because, honestly, I've been distracted by own personal battles as of late.
After some hashing it out, we realized this: Dave Ramsey didn't lean back in his fancy leather chair & discuss ad-nauseam his multi-million dollar empire.  He didn't talk about himself unless asked directly. What he did was ask two people who have nothing to offer him, question after question.  He asked how he could help us.  He called Patti to get Branden in from video to meet us about potential ACOR film connections.  He was surprisingly enthusiastic about Cindy's unique independent film & excited to help see our little project get distribution.  He got up to check on our flights, he strongly encouraged us both to keep plugging away at our respective writing careers.  He took us personally to the studio & introduced us as 'friends.' He was completely charming & down to earth.
It took 5 days to churn out this one post because I kept trying to remember what he said so I could make this an "I interviewed Dave Ramsey!" post, but really, Dave Ramsey interviewed me.
Damn he's good.